Grain Fillers
Morrells Grain Fillers are designed to fill the open grain of timbers like mahogany and oak; they are always applied after any base staining and only when the stain is fully dry. Suitable for hand- and spray-application and overcoatable with any Morrells lacquer. The VOC content of this range meets the requirements of the Secretary of States Guidance Note for Wood Coating Processes PG6/33(11) Appendix 2.
Application
Hand - for maximum efficiency, these materials should be applied with a piece of Hessian or curtaining. It should be applied liberally to the surface and then rubbed into the grain of the timber with a circular action.
Spray - the filler should be thinned with 10% 4870/000 before being spray applied to the timber with a large nozzle combination.
Following hand or spray application, the excess should then be removed with clean piece of Hessian/curtaining by rubbing across the grain as rubbing with the grain will remove the filler from the grain. When the surface is as clean as possible, lightly wipe along the grain. When dry, the surface should be lightly sanded with a worn piece of fine grit paper along the grain before lacquering.
Always consult Morrells Technical Service Department prior to the use of these materials.
Pack sizes: 1.7kg & 7kg
Touch dry: 4 hours minimum @ 18°C
Overcoat: Leave 24 hours for best results
Coverage: 40m² per 7 kg dependent upon the size, orientation and surface quality of the item being coated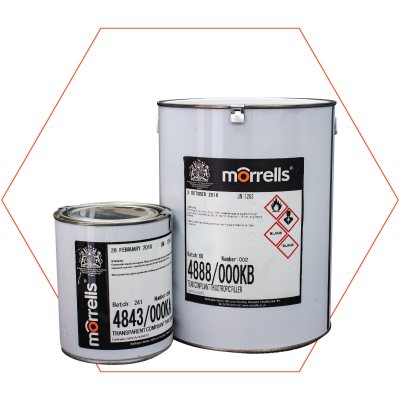 Product Codes
| | |
| --- | --- |
| 4842/000 | White |
| 4843/000 | Transparent |
| 4881/100 | Natural Mahogany |
| 4881/200 | Brown Mahogany |
| 4881/300 | Dark Mahogany |
| 4881/500 | Rosewood |
| 4881/600 | Reproduction Mahogany |
| 4882/000 | Golden Oak |
| 4882/100 | Light Oak |
| 4882/200 | Medium Oak |
| 4882/300 | Dark Oak |
| 4882/400 | Jacobean |
| 4888/000 | Teak |
| 4890/000 | Walnut |
| 4891/000 | Yew |
| 4870/000 | Grain Filler Thinner |
MSDS