Light Fast Wood Stain
A range of fast drying alcohol-based stains suitable for spray, dip and hand application. Formulated to provide excellent grain definition and depth of colour on all wooden substrates including floors. Resists colour fading due to light fast pigments.
This range can be used to tint Morrells Pre-Catalysed and Acid-Catalyst lacquers up to a maximum of 5% by volume. The standard range includes popular primary and wood colours, though bespoke Fastmatch® colour-matched colours are available. When intending to use a bespoke stain on a wood floor, please ensure this is clearly indicated on the bespoke request, e.g. "for floor"/"for flooring applications.
Application instructions can be found in the data sheet.
Pack size: 1L, 5L & 25L
Touch dry: 15 - 30 minutes @ 18°C
Recoatable: 15 - 30 minutes @ 18°C. For flooring, 2 hours minimum before sealer/topcoat
Coats: 1 - 2
Coverage: 8 - 12m² per litre dependent upon the size, orientation and surface quality of the item being coated
Packing: Overnight minimum dependent on the conditions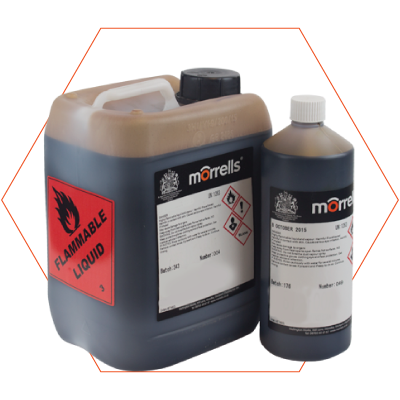 Product Codes
| | |
| --- | --- |
| 0171/000 | Violet |
| 0172/000 | Black/Grey |
| 0174/000 | Light Blue |
| 0175/000 | Red |
| 0176/001 | Blue |
| 0177/000 | Orange |
| 0178/000 | Yellow |
| 0180/000 | Green |
| 0181/000 | Mahogany |
| 0181/100 | Natural Mahogany |
| 0181/200 | Brown Mahogany |
| 0181/300 | Dark / Rich Mahogany |
| 0181/400 | Plum Mahogany |
| 0181/500 | New Rosewood |
| 0181/600 | Antique Mahogany |
| 0182/000 | Golden Oak |
| 0182/100 | New Light Oak |
| 0182/200 | New Medium Oak |
| 0182/300 | Dark Oak |
| 0182/400 | Jacobean |
| 0188/000 | Teak |
| 0190/000 | Walnut |
| 0191/000 | Yew |
| 0191/100 | Antique Yew |
| 0198/000 | Atique Pine |
| 0198/100 | Honey Pine |
| 0198/200 | Victorian Pine |
| 0198/300 | Stripped Pine |
| 0170/000 | Thinners for Light Fast |
MSDS
Colours
Mahogany

0181/000

Natural Mahogany

0181/100

Brown Mahogany

0181/200

Dark / Rich Mahogany

0181/300

Plum Mahogany

0181/400

New Rosewood

0181/500

Antique Mahogany

0181/600

Golden Oak

0182/000

New Light Oak

0182/100

New Medium Oak

0182/200

Dark Oak

0182/300

Jacobean

0182/400

Teak

0188/000

Walnut

0190/000

Yew

0191/000

Antique Yew

0191/100

Antique Pine

0198/000

Honey Pine

0198/100

Victorian Pine

0198/200

0198/300

Stripped Pine